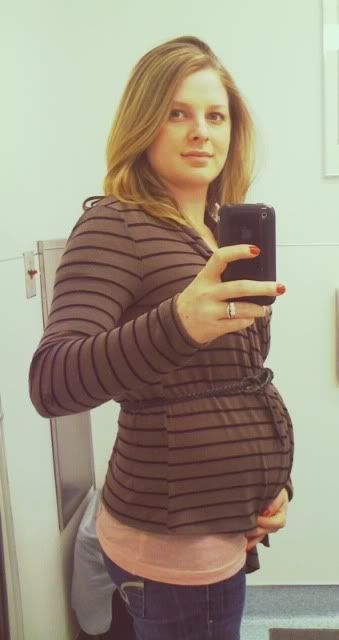 Here's the baby bump just 5 days before our gender appointment. I swear I feel like I've already doubled in size from this picture. Oh my.
We had my husband's dad and his wife up for a visit and to attend our appointment with us. We couldn't have had better weather to act as tour guides and well, the appointment wasn't half bad itself. My parents and sister joined us for an early lunch, and when my sister headed off to work, we took our parents on a drive to the hospital where they patiently waited far too long to join us in the ultrasound room to see their little angel.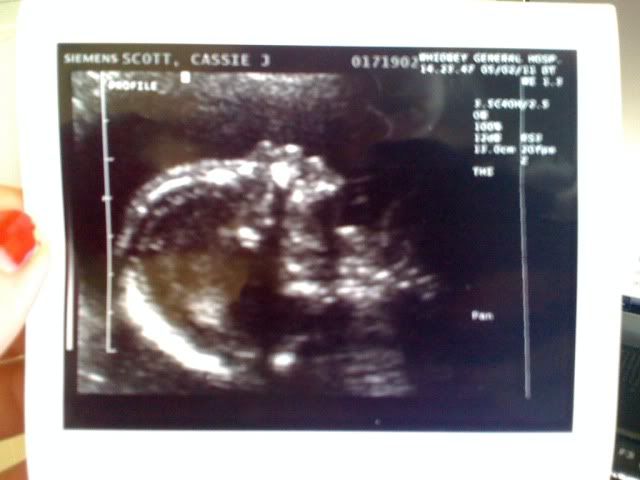 Here's our adorable little guy. Yes, it's a boy! I had mother's intuition the whole time. I was so sure he was a boy and there he was, in all his glory, showing off the goodies. The tech says, "As a disclaimer, I can't promise you 100%. But come on, you see what I see, right"? She was quite funny. He's active and healthy and already measuring ahead of schedule. We are so excited and blessed to be waiting on a little boy.
I've already been so spoiled by wonderful family and friends with baby gear and hand-me-downs. We started organizing it today and I was shocked at the sheer number of items already. It's awesome. My most favorite gift as of late was a little package I received in the mail... I was beyond exicted to see the most recent installment of penpal packages and this one did not disappoint! If my computer was agreeing with me, I'd post pictures right this moment, however it's not. So I'll save that for another post! But I must say, thank you so, so much
Ashley
. You're truly the best!