It's been over a month since I've revisited my bench in the garage. This weekend we pulled it out and finished it up. After three coats of stain and lots of dry time it was ready for polyurethane. Today it's time for the reveal!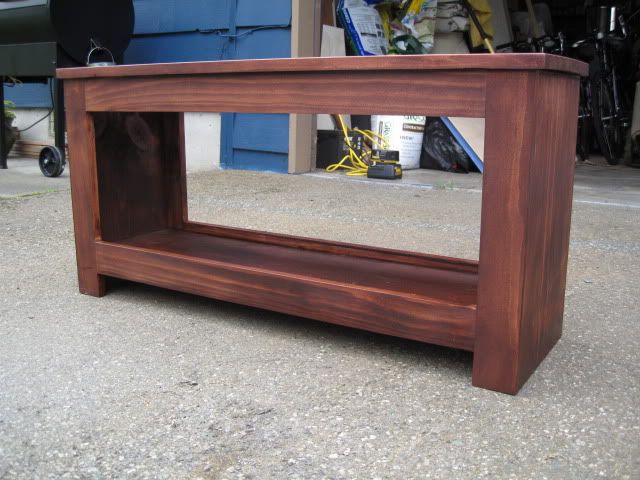 Here's the stain before the poly. It's a rich color, but rather flat. My husband picked out the color and I think he did a great job. I usually over think stuff like this, but he was quick and to the point and found a color almost identical to our wood flooring.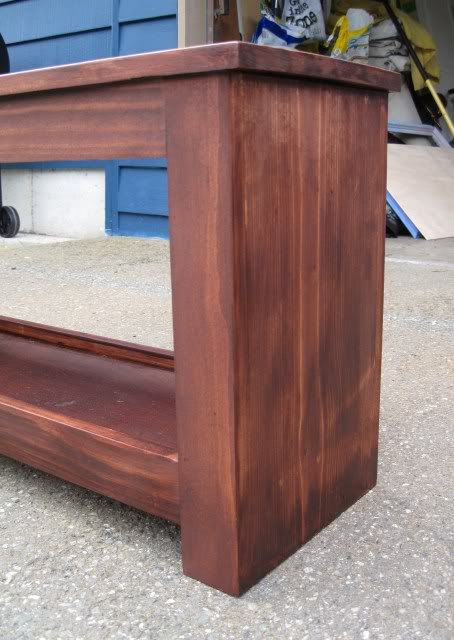 The poly looks like a thick gel, however it's quite thin. I found if the foam brush was loaded up too much with the poly it would cause bubbles and drips. It dries slow enough to have the ability to go back and fix any drips you find without needing to sand them out.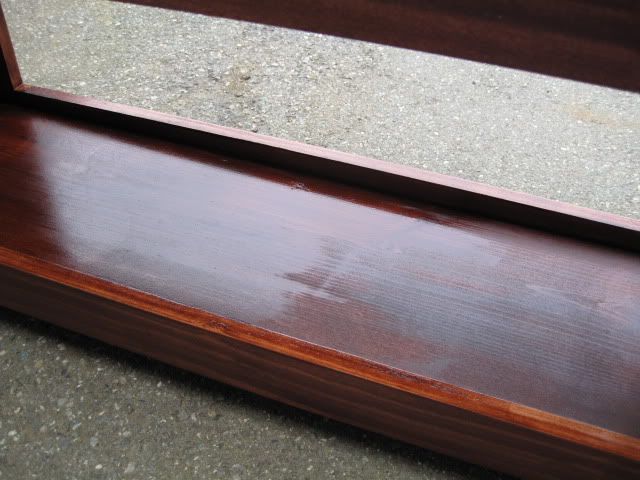 The poly makes a huge difference in the appearance of the color.
I allowed 4 hours of dry time between each coat, then 24 hours of dry time after the last coat before moving it in to the house.
*****
We are so happy with the results. It's fun to know that we've built this ourselves. It's exactly what we've been looking for to go next to the front door. The project was worth the cost and some of the supplies we invested in we'll be able to use again for future projects. We have end tables and bookshelves on our list for the summer.
Here's the cost breakdown for our project. We had some of the supplies at home which helped us with the overall cost.
2 - 6' 1x10's: $16.88
1 - 4' 1x12: $6.82
3 - 8' 1x3's: $15.30
Wood glue: $2.72
Stain: $14.98
Polyurethane: $9.97
Total: $66.67
I was rather surprised at our cost when I added it up. It was a little more than I had originally thought but it doesn't really bother me. Could I find something like this at the store for this price? Sure. But equal quality of stained solid wood? Most likely not.
I'd like to visit local construction sites in my area for scrap wood to minimize cost for future projects. We also have old fence boards in our back yard we've been waiting to burn that we can use for reclaimed wood projects. Pride in ownership when it comes to this piece, and it was a really fun project to complete with my husband.
I can't say enough good things about
Knock-Off Wood
and encourage everyone to visit Ana's blog. She's got something for everyone!