I'm so excited to be posting my very first dessert recipe! I started noticing that I post nothing but main dishes, and perhaps some might like the occasional sweet. Not that I don't have a sweet tooth, I just have too much of one and the only way I have control over it is by not making desserts. But Easter was a different story, I thought I'd try my hand at homemade cupcakes.
Though I don't have step by step pictures for this recipe, I did have fun taking a few the night I was prepping for Easter. Over a couple hours time I pounded out four completely separate recipes. I become more and more organized in the kitchen every time I cook and I had so much fun making these.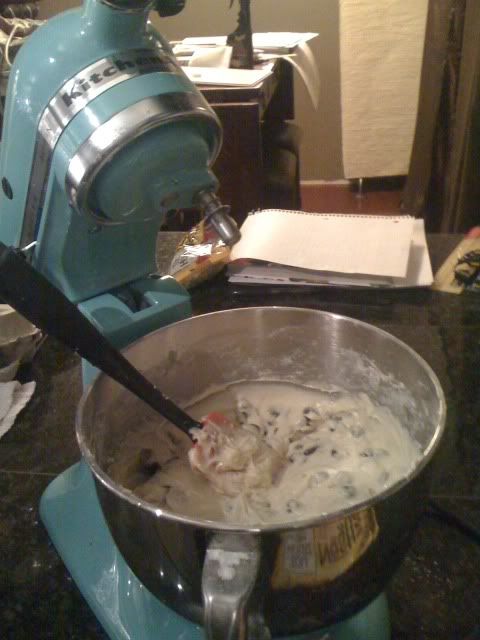 This is the fluffiest, tastiest cake batter I've ever eaten in my entire life. It was almost a shame to bake this.
I don't think I'd be me if I didn't forget at least one thing per recipe. Just so happened cupcake papers were the forgotten item this time around.
It says to bake them 20-25 minutes at 350 degrees. You'll obviously know what amount of time will be best for you given how your oven cooks. In my opinion, mine is a little warm. I cooked these for 22 minutes, but I think next time to ensure they stay moist for a few days I'll only put them in for about 19 minutes.
The frosting was light and fluffy and very rich. It also had chocolate chips which was a nice little treat when you came across a bite with one in it. The frosting was so good. It contained butter, powdered sugar, vanilla & sweetened condensed milk. The longer you beat it, the fluffier it gets.
There's no method to frosting, just slather it on. The more the better in my opinion. But I'm a frosting kind of girl!
All ready to go. We loved them fresh that night. So tasty. This plate went to my parent's for Easter, the four in the background stayed home for us and I ate them for breakfast Monday morning.
I doubled my recipe for 2 dozen cupcakes. I measured my batter out in to the cupcake tin with a 1/4 cup measuring cup and it created 24 perfect cupcakes. If you were to whip up a dozen of these for an after dinner treat one night you'll have them done, start to finish in probably 45 minutes. Almost easier than dinner!
I loved them. Loved, loved, loved them. And I'll be making them again and again.
Chocolate Chip Cupcakes
makes 12 cupcakes
1/2 cup butter
1 cup sugar
2 eggs
1 teaspoon vanilla
1 1/2 cups flour
1 teaspoon baking powder
1/2 cup milk
1 cup chocolate chips
Preheat oven to 350.
Cream butter, sugar, and eggs together until fluffy. Add vanilla.
Combine dry ingredients in a bowl. Add half of the dry ingredients, mixing until just combined. Add the milk. Once mixed, add remaining dry ingredients. Add chocolate chips and mix if you'd like them in smaller pieces.
Pour into cupcake tins and bake for 20-25 mins at 350. Let cool, then frost.
Cookie Dough Frosting
2 sticks butter, softened
1 1/2 – 2 lbs powdered sugar
1 teaspoon vanilla
1-2 tablespoons sweetened condensed milk
1/2 cup chocolate chips
Mix butter and powdered sugar together, adding sugar gradually to the mix. Add vanilla. Mix in milk, adding more if needed. Continue to add milk and sugar until it reaches the desired consistency. Mix in chocolate chips.