The marriage between my life as I've known it & tacos has changed. Forever.
The most recent issue of Food & Wine Magazine featured tacos.
Mexican food happens to be my absolute favorite cuisine. I grew up in a small town known for it's farm land. As I got older the migrant population grew and they began opening restaurants serving their authentic Mexican food. Some of my absolute favorite Mexican restaurants are right in my hometown.
As my love for cooking has grown, so has my interst in making meals that are more authentic. We had chosen to make a Mexican feast for company this weekend that included pulled pork and handmade tortillas.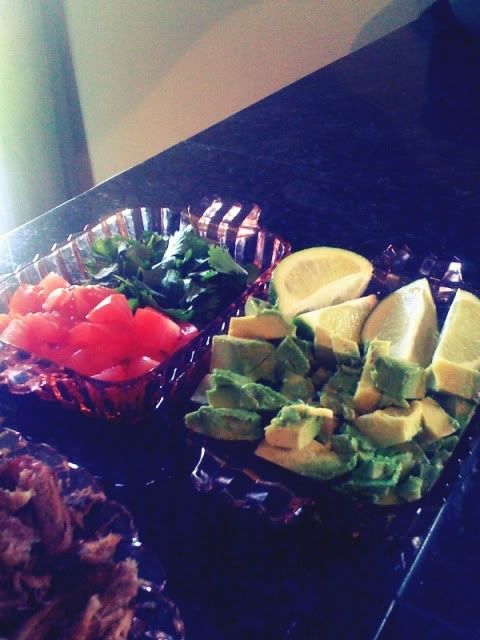 Simple toppings included tomato, cilantro, avocado & lime. I think these would have been just as good topped with diced onion, cilantro & lime.
The pork shoulder was smoked on the barbecue for about 12 hours. It was bathed in a delicious spicy rub and basted throughout the smoke period. A small pan of apple juice was placed inside the barbecue to keep the it moist. When it was finished, it was pulled off and wrapped in foil to rest.
What's Mexican food without good beer? Two peas in a pod here.
The tortillas were so simple to make. The taste couldn't compare to a store bought package. They weren't perfectly round, but I don't have a tortilla press. I didn't know those existed, but my rolling pin worked and I like the rustic look.
Handmade Tortillas
1 cup Maseca corn flour
1/8 tsp. salt
2/3 cup water
Combine 1 cup of Maseca, 1/8 teaspoon salt, and 2/3 cup water. Mix thoroughly for about 2 minutes to form a soft dough. If dough feels dry, add more water (1 tbsp. at a time).
Divide dough into 8 equal balls. Cover with a damp cloth to keep dough moist. Line a tortilla press with two sheets of thick plastic wrap (I rolled out my dough with a rolling pin between two pieces of plastic wrap on the counter), and press until each tortilla measures 5 to 6 inches in diameter. Carefully peel off the plastic wrap.
Preheat an ungreased griddle or skillet over medium-high heat. Cook tortillas one at a time for 50 seconds on each side. Cover tortillas with towel to keep soft and warm.
Makes 8 tortillas
Pulled Pork
4-7lb pork shoulder
4 pound (up To 7 Pounds) Pork Shoulder
1 teaspoon Dried Oregano
1 teaspoon Ground Cumin
1 teaspoon Chili Powder
1 Tablespoon (to 2 Tablespoons) Salt
Pepper To Taste
3 cloves (to 4 Cloves) Garlic
1 Tablespoon (to 2 Tablespoons) Olive Oil
2 Tablespoons (to 3 Tablespoons) White Wine Vinegar
¼ cups Brown Sugar
1 whole Onion
Preparation Instructions
Rinse and pat dry the pork shoulder.
To begin, just throw the dried oregano, cumin, chili powder, salt, black pepper, garlic, olive oil, white wine vinegar and brown sugar into a food processor or blender. (I happen to love brown sugar in my cooking, but you can decrease or omit it if you like.) Cut one onion into quarters and put it in the food processor with the spices. Blend mixture until totally combined and then pour it over the pork shoulder.
Now rub it into every nook and cranny of the meat, tucking it under folds an in crevices. Let no stone go unturned.
Cooking Instructions
The cooking instructions are a video so I'll try to sum it up the best I can based on what my husband explained to me.
After prepping the pork shoulder with the rub, it was placed on the barbecue to smoke. A small pan of apple juice was placed inside to keep the smoke moist. He didn't use the entire amount of the rub the first time around, and basted the shoulder every 4 hours throughout the 12 hour cook time.
After 12 hours the shoulder was removed and wrapped in tin foil to rest for 45 minutes. The foil was removed and the shoulder was easily shredded.
There's the oven version by
PW
, the smoked version by
Barbecue Web
& I'll add the link for a crockpot version by
Kitchenbelle
in case you're interested. You've got a variety of options here for this pork! Try it, you'll love it!