This post contains the following three things; my mom, sister & the other love of my life. Ree Drummond, the Pioneer Woman. I'm still excited today, after the fact.
Yesterday was the
Pioneer Woman
cookbook signing in Seattle and there wasn't a chance I was going to miss it. I've loved Ree for over two years, from the moment I laid eyes on her blog. At that point, I didn't even know what a blog
was
. I was introduced to her enchilada recipe, and then realized she posted recipes on this thing on a regular basis. Slowly I ventured out to other areas of her site and fell more in love with her. She's funny, happy and personable online, and boy did she shine through in person!
It was also my mom's birthday. You know your mom loves you when she does what you want to do on her birthday. I drove thirty minutes to pick up my sister, then the last 30 minutes to grab my mom then we made the hour trip south to Seattle.
The book signing was held at
Third Place Books
in Lake Forest Park. What an awesome book store! It was huge, with a really great selection. It also had a commons area with a small food court of
5 different restaurants
, a stage and plenty of seating.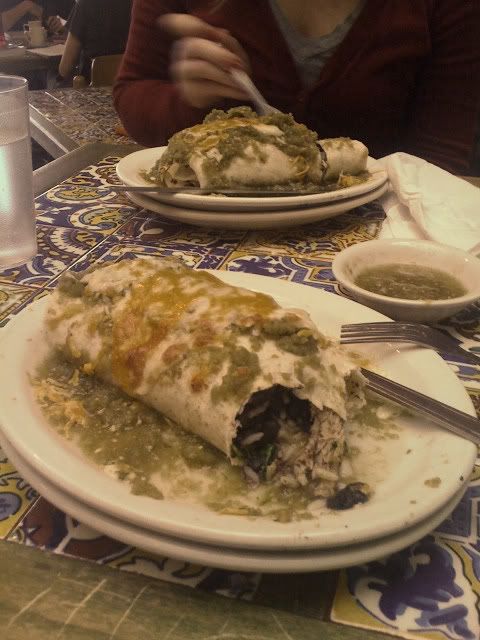 We dined on Mexican food from El Oso.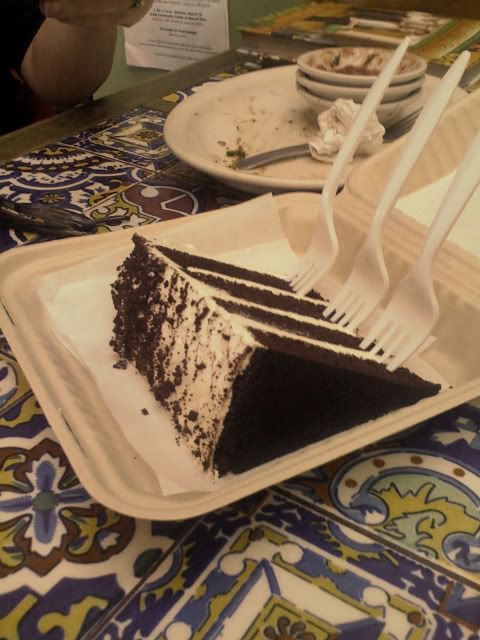 We shared cake from the Honey Bear Bakery.
Happy Birthday Mom! I had so much fun spending the day with you!
We arrived at the book store around 4:30 to pick up our line tickets for the 5:00 signing. They had signing groups lettered A-Z that contained 50 people per letter group. We were H. They said they normally got through about 4 letters an hour with typical authors, but with the chatting and pictures Ree likes to take it would take just a tad longer than that. I didn't mind at all!
Around 7:00 a swing band set up on the stage in the commons. They started playing some great swing & jazz music and there were people dancing everywhere. From sweet older couples, to a swing club of younger kids, to obviously trained dancers. It was so fun to watch. The best part was when my mom was asked to dance. She blushed bright red and admitted she doesn't dance at all. He just wanted to make sure she didn't go the whole night without being asked. It was so sweet!
By 7:00 I had been up for over 24 hours with just a small nap, so I grabbed a heavenly soy cappuccino from the Honey Bear Bakery. It was so delightfully foamy. It was my first chance to be exicted and star struck when out of the corner of my eye I caught a glimpse of Ree's oldest daughter walking by to pick up something at the cafe. She was so cute! Really tall but oh so cute.
I'm so glad my sister decided to come with us. It was a great girls day and just wouldn't have been as fun without her.
By about 9:00 our letter was called to line up!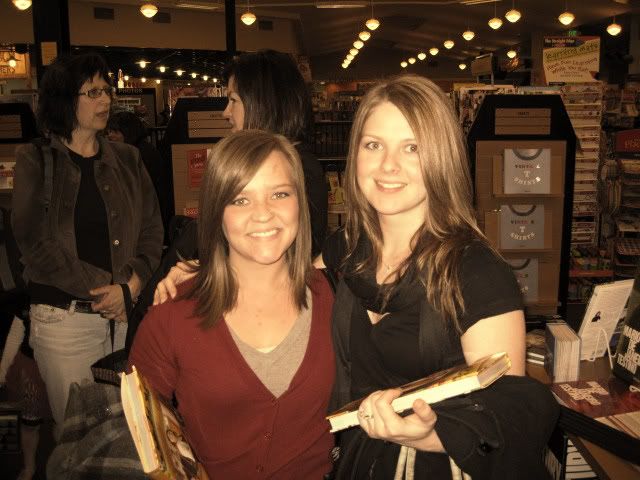 After about a 45 minute wait in line it was almost our turn. I became very excited and then very nervous. I was shaky and I thought I might sweat to death. We moved one more person up in line and there she was. I could see her head over the book case. She was all smiles. I couldn't believe I was seeing her in person!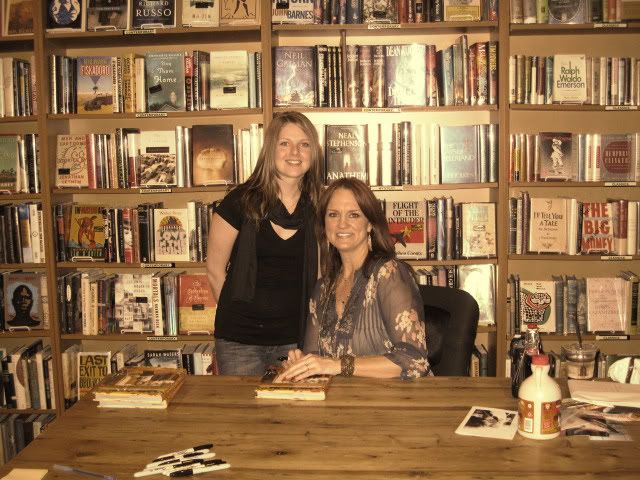 My mom sent me up on my own to get in a minute to chat with her. I was so nervous! I sound like a total goober don't I? I didn't even know what to say! My mom decided I wasn't doing a good enough job so she came up to help me out. Ree was just so sweet. She's kind, gracious and just has the sweetest spirit. She seemed as though she truly loved talking with every single person that came through her line.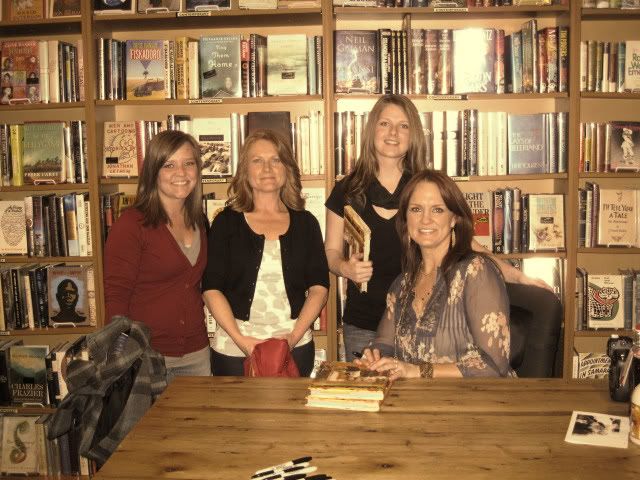 She called us the Breck Girls. My mom knew exactly what she was talking about. My sister and I on the other had did not. But the two of them got a good laugh out of it. Aparently the Breck Girls were models for shampoo they remember back from the 70's & 80's. My mom told me their ads always featured a blonde, brunette and red head. I guess the three of us cover that!
Checking the book store's twitter feed today, they had over 800 in attendace at the book signing last night! I never imagined it was that many people, but they really housed everyone well. I'd never been to a book signing before and I've never met anyone of the celebrity genre. It was definitely a fun experience!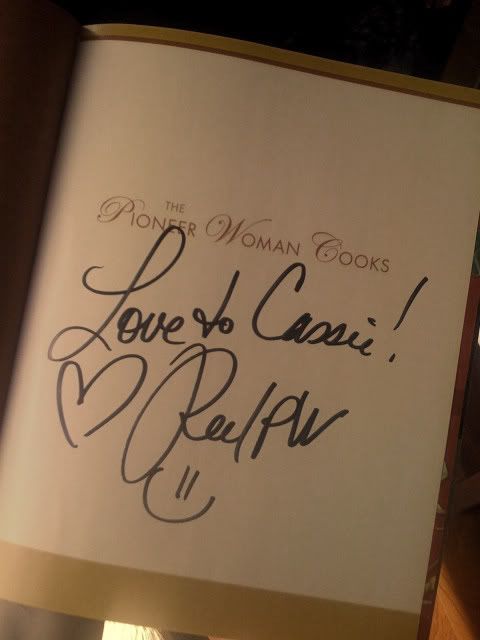 The Pioneer Woman is great and I'll continue to love her for as long as she blogs. If you haven't checked out her cookbook, please do! I gifted one to my mom and sister just for the signing and they were so excited. Lots of fun recipes and step by step pictures. Perfect for the first time cook or anyone who just loves classic homemade recipes.
And last but not least, another thing to mark off the bucket list. Meet someone from the internet. Check!