The actual name of the recipe isn't the 'perfect dinner roll', but since I tweeked the look of the rolls I changed the name. Name aside, these rolls were super good! My only complaint is the amount of time it took me to complete them. But I suppose that's what happens when you have to use yeast. You have to wait. And patience isn't one of my virtues aparently.
Like previously mentioned in the
biscuit
post,
Tasty Kitchen
is often my go to site when I need a simple recipe for something like dinner rolls. I don't really have cookbooks or even a recipe that's been passed down in the family, so I just find ones to make my own. This one was easy enough - and I liked it. And so did my family.
You'll need water, sugar, 2 packages of yeast, milk, butter, salt, 3 eggs & flour.
I started by mixing warm water, yeast packets & sugar together. I did this in a small bowl (boy do I wish I had step by step pictures for this one), in which it proceeded to expand right out of.
I added warm milk, melted butter, sugar (which I'm now thinking I actually forgot), salt, 2 eggs & a little flour to my mixer bowl. It said to mix it on low, which I did. Then I couldn't figure out after I read the recipe 3 times where exactly the yeast was supposed to go in. Weird that I should have just put the yeast right in the mixer bowl in the first place then add the list of ingredients to that. Weird. But I eventually figured it out. Then it made sense. I think.
Now, I'll admit right now that I'm intimidated by bread. I've made a couple of really bad rosemary rounds (dare I admit I've cooked something bad), and some not so good beer bread. I was afraid to mess this one up.
I continued to add in flour until the bowl was just about empty. I scraped the sides as needed. The recipe says you'll have a little flour left over that you can kneed in, as the dough needs 10 minutes of kneeding - but I allowed my KitchenAid to kneed it for the majority of the time. I gave it a few minutes by hand as I worked it in to a ball to place it in a bowl to let it rise.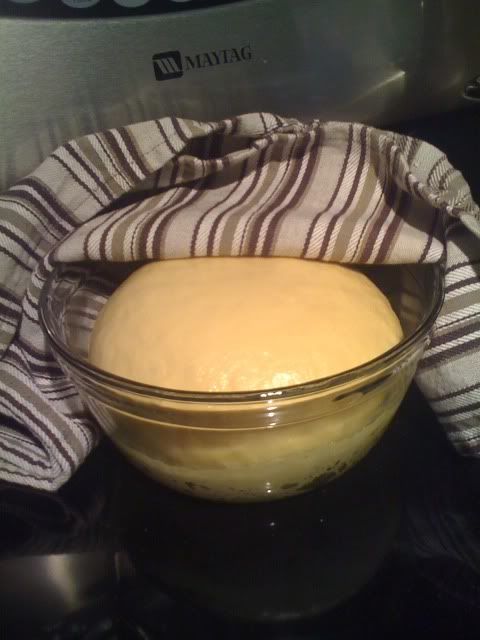 30 minutes in to 1 hour worth of rise time. Looking pretty darn good at this point. I had the oven on because I was making cupcakes at the same time, so I sat the bowl over the warm spot on the stove top which really helped with the process.
After the dough had risen an hour I punched it down and let it rest for about 15 minutes. After that I began dividing the dough. I cut it in half, then the halves in half and so on, until I had 48 pieces. I rolled the pieces in to little balls and placed 3 (instead of the 4 the recipe states) each in to the cups of the muffin tin. I like odd numbers better and I was trying to get just a few more rolls out of my batch without having to double the recipe. Worked out nicely.
Gave them about 15 minute to rise before brushing them with a combo of water & an egg yolk and popping them in the oven for 10 minutes. They baked up golden and beautiful.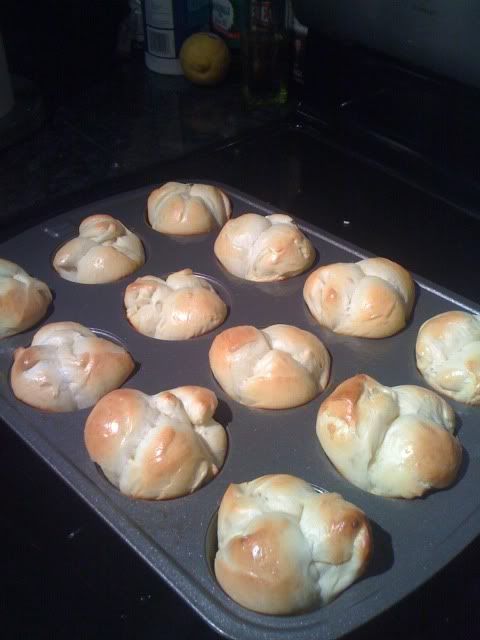 The smell of fresh baked bread is heavenly. Almost as heavenly as the cupcakes were.
I found the most springy looking towel I had in my drawer and put it in a very spring colored Pyrex bowl and started stacking the rolls inside. When I had both batches done, they were wrapped up and tucked in to the bowl and looked awfully darn cute on my mom's table. Best part, they tasted awesome.
Lucky Four-Leaf Clover Rolls
aka the Perfect Dinner Roll
•½ cups Warm Water, 105-110 Degrees
•1 teaspoon Sugar
•2 packages Yeast (.75 Ounce Packets)
•¾ cups Milk, Warmed To 105-110 Degrees
•4 Tablespoons Butter, Melted
•⅓ cups Sugar
•1-½ teaspoon Salt
•2 whole Eggs
•4 cups All-purpose Flour
•1 whole Egg Yolk
Combine warm water, 1 teaspoon sugar and yeast in a mixing bowl. Let stand for 5 minutes. Yeast will foam and expand.
Using an electric mixer on low speed, add milk, butter, 1/3 cup sugar, salt, eggs and about 1/2 cup flour. Continue adding 1/2 cup of flour at a time, scraping down bowl occasionally, until a soft dough forms. You may have as much as 1/4 to 1/3 cup of remaining flour.
Turn dough out onto floured surface and knead in the remaining flour. Continue kneading dough for 10 minutes, adding just enough flour so dough won't stick. Form dough into a ball and place in a large greased bowl, turning the dough to cover with oil. Cover loosely and let the dough rise in a warm spot for one hour, or until doubled in size.
Punch down dough and return to floured surface. Let it rest for 10-15 minutes. Divide dough in half, and then continue dividing each piece until you have 48 individual pieces. Spray a 24-cup muffin pan with cooking spray. Roll dough pieces into balls and place four balls into each muffin cup. Cover muffin pan and let rolls rise in warm spot for 30 minutes.
Preheat oven to 400° F. Mix egg yolk with two teaspoons of water and brush egg wash over tops of rolls. Bake in 400° oven for 10-12 minutes, watching to make sure the tops don't burn.