I found this on
Pinterest
and freaked out a little. I liked it so much, I thought I could try my hand at updating my four year old Hemnes night stands from IKEA.
This was a $6 makeover. $5 for a tiny can of stain and $1 for the two foam brushes. I could have used stain and foam brushes that I already had, but I'm pretty sure the stain is in the garage is either a. frozen or b. dried out because I didn't put the lid back on it all the way. And the foam brushes? I know I have some, I just figured it was easier to buy them rather than rummaging through the house. The paint I had on hand.
Before:
After:
And now for staged photos with random props gathered from my house: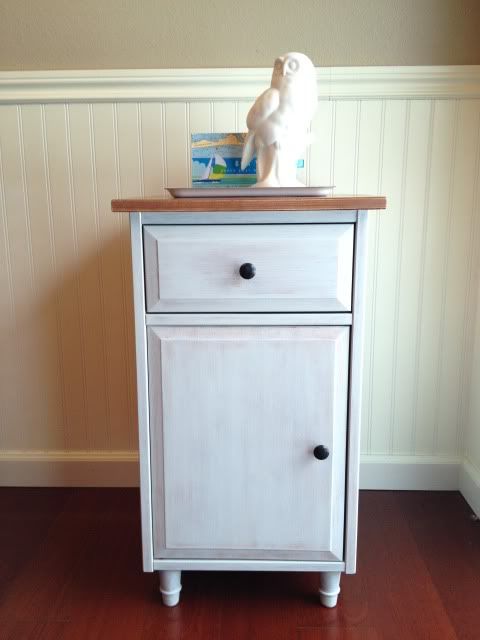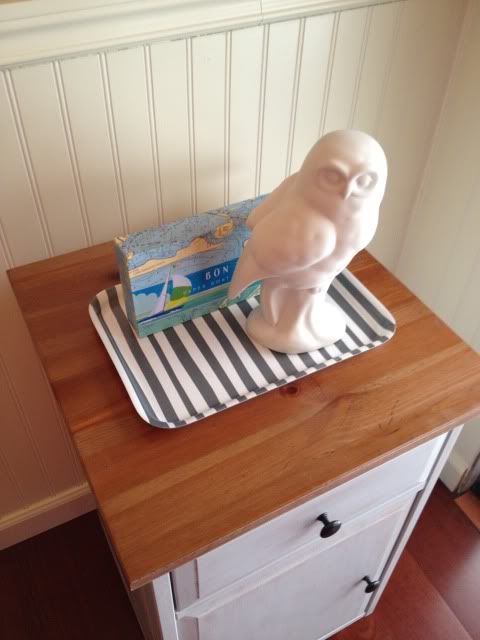 Bon Voyage Note Cards - Gift from Ashley
White Ceramic Owl - Gift from my mother
Gray & White Tray - Ikea circa 2010
And check me out. Pizazzing up the insides!
Wrapping Paper cut to size - IKEA circa 2010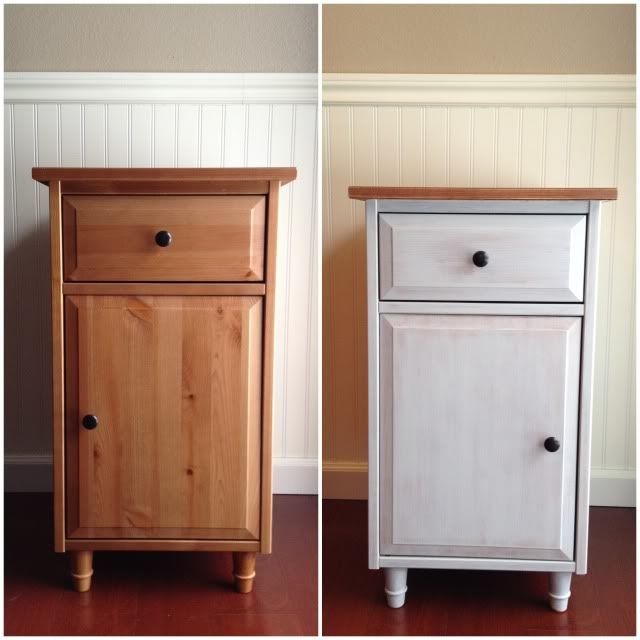 You were pretty cute before little thing, but you're fitting the beach cottage chic of my bedroom even better now!
Stain: Minwax Red Oak
Paint: Martha Stewart Driftwood
Both available at Home Depot.
If you're thinking of tackling a small project like this, it's easy! You could get away with purchasing a tester bottle of the Martha Stewart paint for around $3, a small can of stain for $5 and a couple foam brushes (one for the paint, one for the stain). I applied two less than perfect coats of paint with a large foam brush and three coats of stain. I wanted a worn, shabby look, so in between coats I sanded a bit with an ultra fine sanding block I had on hand and rubbed a little stain along the edges of the drawer and door.
And that's that! Hope you enjoyed!