Holy crap. Thanksgiving is coming! It is my absolute favorite holiday of the year. Christmas is great and all, but there's just something about Thanksgiving that I love oh.so.much! Are you as excited as I am?
I figured I'd take this opportunity to update my poorly neglected blog to fill everyone in on the happenings around here.
1. I noticed I've gained several
new followers
and I'm tickled pink! It makes me so thankful that people want to take the time to read my entries and enjoy my little contribution to this world.
Hello and welcome! I'm so happy to have you!
Please leave me a comment and say hello, and a link to your blog if you have one so I can follow you back :)
2. My husband's father and his wife will be making a very long and snowy trip up from southern Oregon to our beautiful island for Thanksgiving. I'm so damn excited I could just have a fit. This will be the first time they will be meeting my parents in the years we've been together and the first time they'll be to our home. This will also be our very first Thanksgiving combining members of his family and mine. Thrilled I tell you!
3. Work around the house has been in full swing. My awesome husband has been such a huge help. After the great flood of our downstairs, projects have been moving a long at a better pace. Motivation maybe? Perhaps. I have totally finished my dining room makeover. I have no wall decor, but the meat and potatoes of it is finished and I'm so happy. Today I'm putting the final touches on the cabinet doors in the kitchen and they'll get new knobs. Then the cabinets are DONE! Holy cow, big project. They do look fabulous though. We'll also be trimming out the rest of the kitchen and the last bit of the living room we didn't get to in 2008. Visiting parents make for wonderful motivation!
4. The master bedroom flood: At this time we're waiting on the last step from the insurance company. We are working with a local flooring company to finish replacing the damaged vinyl in the laundry and bathroom. Once that happens (hopefully next week,
hopefully
), I have touch up painting to do, we can install the new toilet, vanity and mirror, and purchase our new washer and dryer. We'll then install the two interior doors and trim out the rooms. Then I go to work on decorating and moving in. Yay! So close, yet so far away. And the best part? The room is like brand new. It smells brand new. No more musty basement smell and I absolutely love it.
5. I don't really like to show off unless it's some cool project I've done, like my cabinets or painted candle sticks, but I did want to share a couple of things we've accquired over this last year that make us very happy. This is because we're taking Dad and his wife on a very special trip while they're here this weekend and I'm so excited to share the experience with them.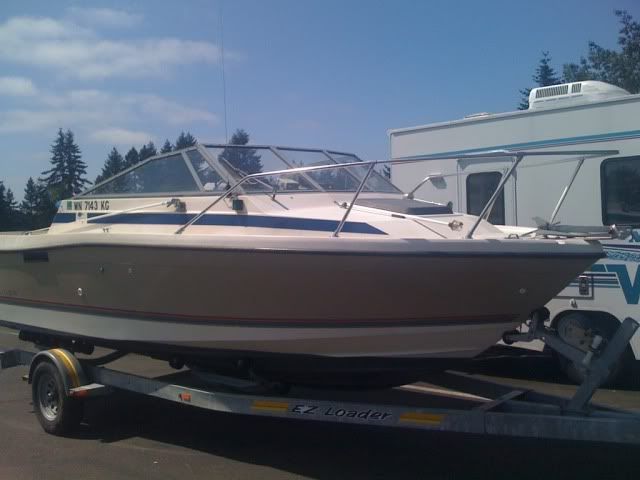 We bought this beauty over the summer. Husband bought it for his birthday in July. He'd wanted a boat forever and I told him to buy one, be quiet and leave me alone. So he did. It's an '85 21 foot Bayliner Trophy in immaculate condition. He bought it from it's second owner and they took wonderful care of it.
It has a beautiful canvas top and all the fittings for a full enclosure. It has a great heater, sink and fridge right on the deck. The cuddy cabin sleeps 3 and has a head. We will eventually give a weekend on the boat a shot. Just have to get the cushions for the cuddy reupholstered. Those were the only thing on the boat that needed a little help.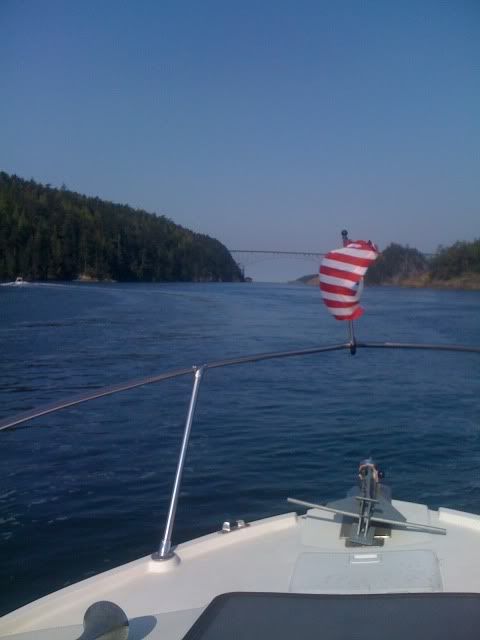 This is why he wanted a boat so badly. Living on beautiful Whidbey Island is a dream. It's so beautiful out here. I lived on the mainland just 45 minutes away from here growing up and always said I'd never live on this strange island. Then I got a job here as an adult and never left. It's beautiful and there are few places I'd choose over here.
The deal was sealed the first time I went under that bridge in the background. The beautiful Deception pass bridge is almost 1/3 of a mile long, 185 feet above the water. It connects us to Fidalgo Island. Fidalo has a bridge about 1/4 mile long connecting them to the main land. Stunning.
I can't wait to take Dad and his wife out on the water. It will be a chilly trip, but we'll be sure to bring lots of cozy goodies for the tour. I pray for a fogless day (though my first trip was in the fog and it was still amazing) with calm waters. I can't wait to take them out on the beautiful Pacific Ocean!
6. The craft fair is starting to overwhelm me. I'm so nervous we're going to be two silly girls sitting with a bunch of crocheted goods. I've got some great cowl neck scarves I've designed and love. I'd rather just keep them all for myself so I have one in every color. After the craft fair I'm going to host a giveaway of some of my favorite things! I think we're about two weeks out and I need to get working faster!
7. Thanksgiving menu is planned and this afternoon is shopping for the food with Mom. Looking forward to it! I absolutely love cooking big extravagent meals and this is no exception. I can't wait to share my whole Thanksgiving menu and I have a few ideas up my sleeve! If any of you have a fabulous Thanksgiving dish you can't live without and would like to share, please, please share! I'd love to feature your recipe and photos and if you feel so compelled, I'd love to see your table scape! Email me if your interested!
Happy Monday to all of my wonderful blog friends and I hope you have a wonderful week of family and friends!