You'd think one of these days I might consider making a recipe from someone other than the Pioneer Woman. Well, I'd think anyway.
But guess what! I have found a recipe from someone else other than PW. And I'm really excited to make it, because it sounds delicious. But this recipe just happens to
not
be
that
recipe. Sorry.
This weekend our friend Dave came to visit again. With his rotating schedule we don't always have the same days off and can go over a month at a time without the opportunity to get together. I believe when he arrived at the house the other day, my husband said "my boyfriend is here". I'm not kidding. These bromances are getting serious. A little
too
serious.
So these two guys like to eat, and they like to eat food that is NOT good for you. And food with lots of cheese, or butter, or milk. Just dairy as a whole, which isn't compatible with me (not like that, geez). But that's a story for another time.
Dinner was chicken marsala, so we had that twice in a week. It's easy and tasty so I didn't mind. But the best part was breakfast the next morning.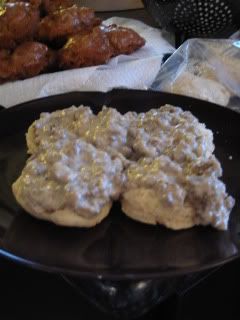 Hello homemade biscuits and gravy (and poor picture quality)!
And of course, golden deep fried little devils called apple fritters! Oh, they were so divine. I've never made a homemade "donut" of sorts, nor have I actually deep fried anything. It was an adventure. A successful adventure. And here we go (as I marvel at my photo skills to come. NOT).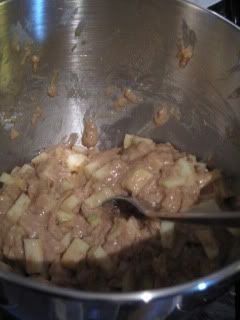 Mushy, sticky dough just ready to be plopped in some canola oil.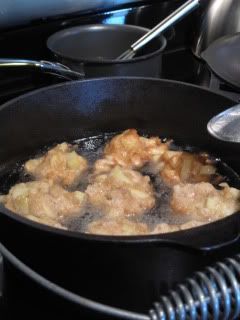 And there they are just deep frying away.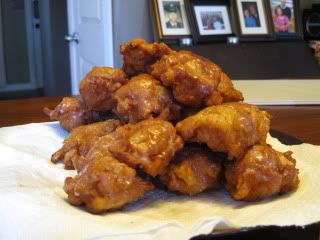 Yeah, those just look like they're waiting to kill you. Deep fried, glazed heaven. Oh, and I might mention to you that she lists the glaze as optional. I will assure you this step is not optional. I mean it, don't skip the glaze. It's the least of your problems here.
In the end these were a huge hit. Next time I'll half the recipe for three people, the left overs are completely unnecessary. I'm sure I've gain a ridiculous amount of weight this weekend. Way to just throw all my yoga work out the window. But if you're going to splurge, or want to impress your husband who happens to love apple fritters with how amazing you are, then try these!
Ingredients
FRITTERS
2 cups All-purpose Flour
½ cups Sugar
3 Tablespoons Sugar
2-¼ teaspoons Baking Powder
1-¼ teaspoon Salt
2 teaspoons Ground Cinnamon
2 whole Large Eggs
¾ cups Whole Milk
2 teaspoons Vanilla Extract
2 Tablespoons Melted Butter
2 whole Granny Smith Apples, Peeled And Diced
Powdered Sugar (optional, For Dusting)
GLAZE (optional)
1-½ cup Powdered Sugar
¼ teaspoons Salt
¼ teaspoons Vanilla
¼ cups Milk
Preparation Instructions
In a mixing bowl, combine flour, sugar, baking powder, cinnamon, and salt.
In a separate bowl, beat the eggs with a fork, then add milk, melted butter, and vanilla.
Gently fold dry and wet ingredients together until just combined (do not overmix.) Fold in apples. Add enough apples to make a very chunky batter. You want the apples to shine though!
Heat a couple of inches of canola oil over medium to medium-low heat. When it gets hot, drop a little drop of batter into the oil. If it sizzles immediately and rises to the top, the oil is ready; if it burns quickly, turn down the heat.
Drop teaspoons of batter into the hot oil, six or eight at a time. Sometimes they'll flip over by themselves; sometimes you have to flip them. Just watch them and make sure they don't get too brown, but cook them long enough to make sure the batter's cooked through, about 2 to 2 1/2 minutes total.
Remove and drain on a paper towel. Dust very generously with powdered sugar, or dip fritters in a light doughnut glaze (mix all glaze ingredients together, then dunk warm fritters).
Serve warm!
**May be heated up the next day in a 350 degree oven for 8 minutes.