I've had this recipe saved forever but had convinced myself it was too hard.
We were having new friends over for dinner. I know him through work, but hadn't met his wife yet. I was nervous and trying to find something adorable to impress. Let me tell you, these worked!
Thanks to my husband for being my cooking buddy. I don't think he knows how much I appreciate when he gets in to the kitchen with me and helps me get things done. Things get made in half the time.
The day started off with this adorable little bouquet picked by my husband. They were growing somewhere in our yard and he saved them rather than mow them. He laughed when he saw I actually put them in a tiny glass of water. An old shot glass to be more specific. They're on the window sill in the kitchen. Too cute.
This has to be the easiest pie crust in the world. It was quite good too. Flour, butter, eggs. That's it. Mixed in a mixer or with a hand mixer.
Dough was rolled and placed in to tiny ramekins and filled with the strawberry mixture. Strawberries, brown & white sugars, flour, corn starch, cinnamon, nutmeg & vanilla. Over fill each of them, and for a cute touch, rather than basket weave the top I cut little stars out and placed them on top of the strawberries. Adorable!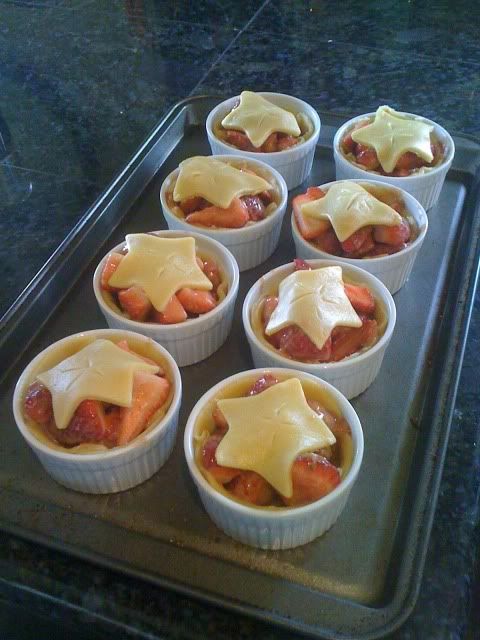 Here they are ready for the oven. Place them on a baking sheet, pop them in the oven for about 40 minutes and then pull them out to cool. They are so easy and quick, and you've got the perfect summer treat.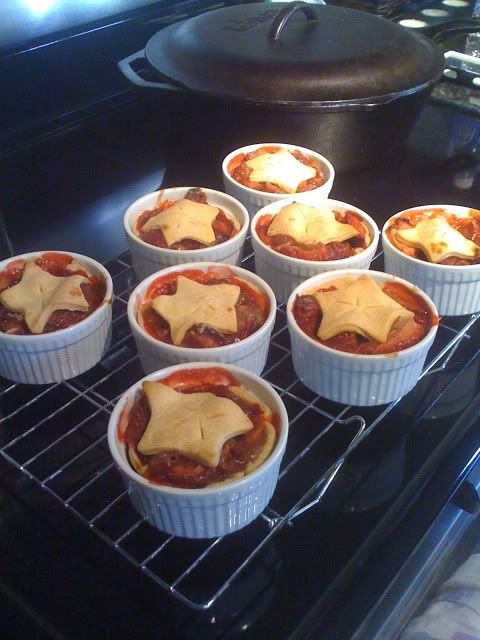 How cute are these? Place them on a cooling rack and let them cool completely. You can either serve them straight in the the ramekin like we did, or you could pop them out and put them on a plate for guests to dish up. Be sure to grease your baking device, these popped out so easily on their own after I sprayed them.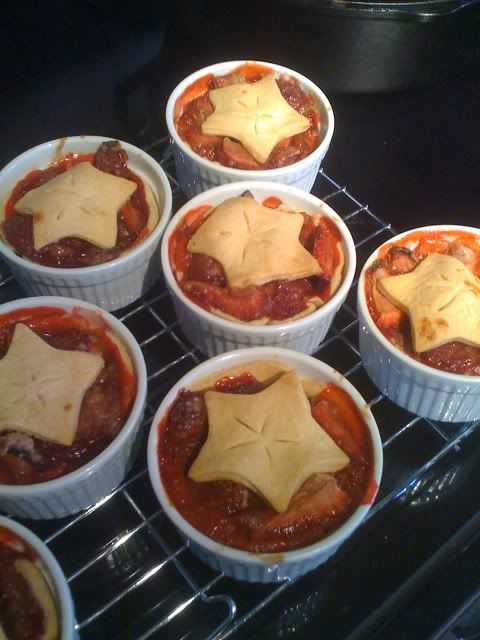 I plan to make these again while we're on vacation this week. We have raspberries, blackberries and blueberries in the fridge. As long as you have 4 cups of fruit, I think you could fill these with whatever you wanted. How perfect would these be for a baby or bridal shower? Or just a girls tea? I guess it's time to start planning a party!
Make them, enjoy them.
For the crust:
1 cup all-purpose flour
1 cup cake flour
1/2 tsp salt
3/4 cup cold butter, cut in to 1/2 in cubes
2 whole eggs, lightly beaten
For the filling:
1/2 cup all purpose flour
1 tbsp corn starch
1/2 cup brown sugar, not packed
1/4 white sugar
1 dash cinnamon
1 dash nutmeg
4 cups strawberries, quartered
1 tsp vanilla extract
Mix 1 cup flour, 1 cup cake flour and salt together in the bowl of your stand mixer fitted with the paddle attachment. Add the cold butter cubes and mix on low for 1 minute, then add the eggs and mix on medium low until the dough forms a cohesive mass. Pat the dough into a disc, wrap in cellophane and place in the fridge.
In a small bowl mix together the 1/2 cup flour, cornstarch, brown sugar, white sugar, cinnamon and nutmeg. In a larger bowl, toss the strawberries with the vanilla extract and then toss them in with the dry ingredients.
Preheat oven to 400F. Place a cupcake pan in the freezer.
On a clean surface, roll out 3/4 of your pie dough until it is about 1/8″ thick. Return the remaining 1/4 of the dough to the fridge.
Cut circles in the rolled-out dough using a round that is approximately 3″ in diameter to make a total of 9 circles. Remove cupcake pan from fridge and lightly grease 9 of the cups with butter. Gently press each dough round into greased cups, coming all the way up the edges and leaving a small rim of dough at the top. Patch any holes with a pinch of extra dough from the refrigerator.
Overfill each pie with the strawberry mixture. Roll out remaining dough and slice into 1/4″ to 1/3″ strips. Lay strips of dough across each pie in a criss-cross pattern, pinching each seam together as you go along.
Place the cupcake pan on top of a baking sheet and bake for 30-40 minutes. If at anytime the crust is becoming too brown, cover pies with aluminum foil and continue baking. When done baking, let the pies cool in pan for 30 minutes, then remove and let pies cool completely on a wire rack before serving.
Makes 9 pies