I'm sitting here eating a nutritious breakfast at 5:45pm, and realizing now that I haven't uploaded as many renovation photos as I had originally thought. But I can give you a sneak peek of the beadboard, for now.
Since, you know, I promised that by Wednesday.
Here you can see the Martha Stewart "Lamb". It's a really pretty white with just a touch of grey. And I tell you what, beadboard is a pain in the ass to install. Especially when your walls are from 1976 and they were too wild to be built straight then.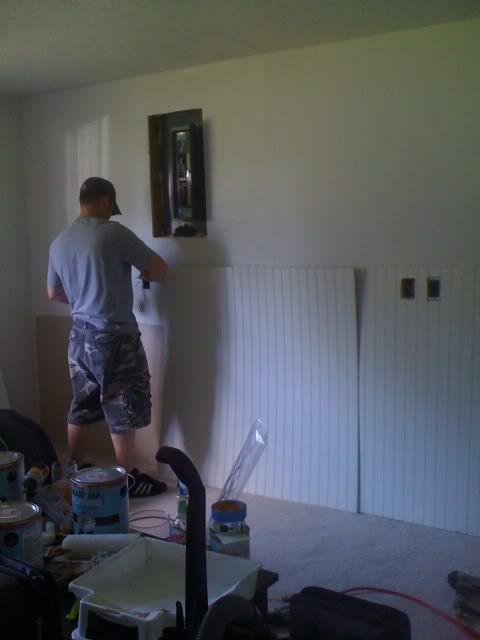 Where handsome husband is standing, you can see my lovely breaker box. It had a little wooden door on it that we took off. This is actually where the head of the bed will go. We'll trim out the inside edges of the box to hide the insulation and throw up a picture or something. Shouldn't be a problem. I hope. You can also see the old wall color.
Funny story about the old wall color. That's the color I chose two years ago, when this room was going to be the "den". And I later realized this was almost the same original color of the house I painted over UPSTAIRS. What's wrong with me?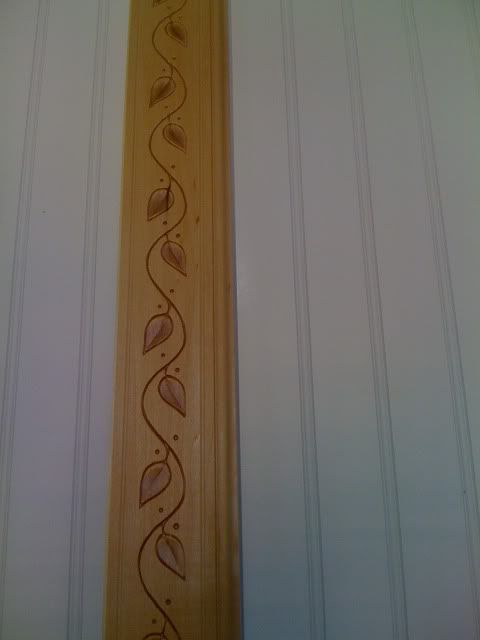 This is the trim we chose for the top of the beadboard. It will be painted out white, to match. We really liked the pattern. It will be much more subtle once it's up on the whole wall and I think will add a little character. I've actually got a coat of paint on the beadboard now, just no pictures yet. It looks 10 times better than even these photos. Each little step gets me more excited for the next.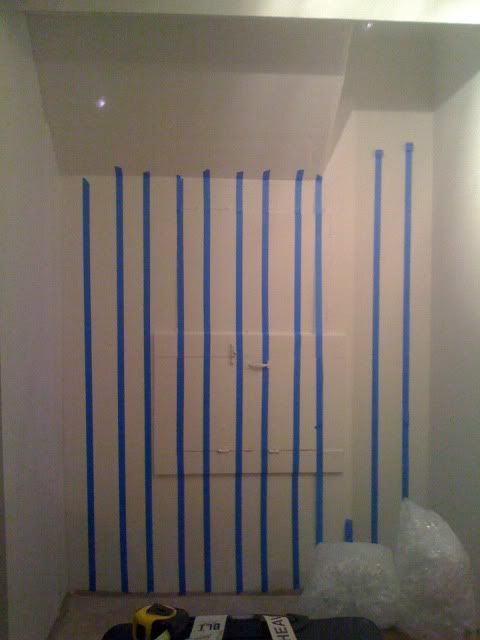 Here is one of the two closests in the room. That's the crawlspace door, and the weird part up top are the stairs leading to the upper part of our split level home. I'm painting the backs out with stripes and boy is taping a tedious job. That's why the last four pieces of tape are just kind of hanging out. I've chosen a light grey for the stripes, and they should add just enough of a fun pop when the closets are open.
The stripes will be "Driftwood Gray". I'm also using the Driftwood in the laundry room. Either in wide horizontal stripes or solid. The room only holds the washer and dryer for now and needs a little help since it's a decent sized room at 8'x8'. I think we'll be adding a dresser that will double as a folding table and possibly a craft/sewing table of some sort. Space allowing, of course.
That's it for now. Tuesday is another big day of work downstairs for us and I'll have more photos to update then.