Husband: "Babe, look. Old Pyrex".
Me: "Oooohh, I love it"!
We were out and about last weekend and hit a little cafe downtown,
Angelo's
, for breakfast. They serve delicious breakfast made with local food. Their cappuccinos are to die for.
After breakfast we took a walk down the street to window shop the downtown area. I came across an antique store and about died for a really awesome bench in the window. One that would look just perfect at the end of my bed. I didn't get it. It was a little out of my price range, but I decided to take a walk through the store.
He finds the Pyrex, I love it, then walk through the rest of the store.
Me: "Honey, come here and help me carry these to the counter".
Husband: No words. Just the look of death. Maybe not death, but the look of "
I know, you know, I know exactly what the kitchen looks like, and exactly how much room the kitchen has for storage, and exactly how much crap you ALREADY have in there and you don't need ANYTHING else".
Me: "I'm serious, come over here and help me carry these up".
He came. Slowly.
I know I have one like this already, but it's not old and it's not pink. This one is old AND pink, and it matches my blue and yellow bowls.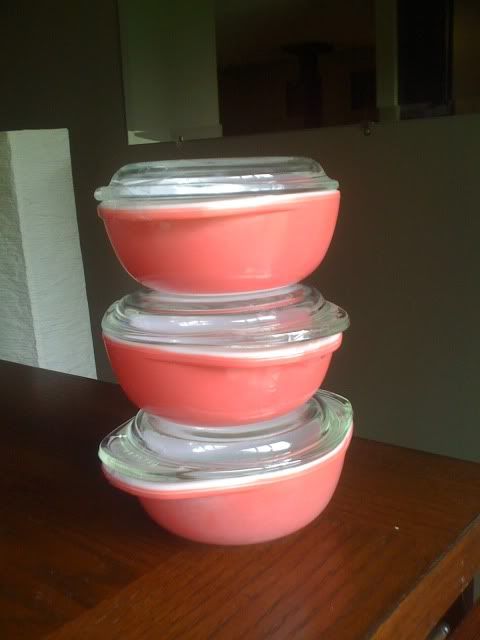 If they'd had four of these, I would have made the dessert for my guests in them for our dinner on Monday. But three is just fine. Because they're pink.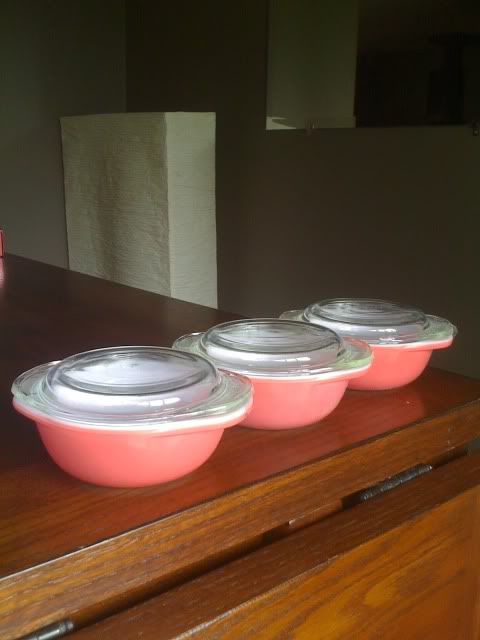 Pink, with lids even.
The store is called
Oak Tree Antiques
. It was voted as a nominee for best antiques in the northwest in 2009 through one of the Seattle news channels. The store was friendly and had a lot of neat stuff to look through. Some was priced really reasonably, like this Pyrex, and other stuff was expensive for my taste. Either way, cute store. One you browse through when you're visiting somewhere new. I can't believe I've lived here three years and this is the first time I've been in. I'll definitely go again.
And I'll cross my fingers they have more Pyrex. And maybe I'll go alone.