We celebrated my dad's birthday on Sunday with dinner, a trip to the pumpkin patch, chocolate cream pie with coffee and a batch of chocolate pumpkin muffins. It was a great day feeling like a kid again.
The older I get, the more thankful I am for my parents and siblings. Each time we get together, it reminds me of how absolutely self absorbed I can be most of the time. I'm not say I intentionally ignore my family, but we live busy lives. We have a busy work schedule, spend almost a whole 24 hours each weekend recovering, then have our own to-do list. Whether it be house work, cooking or crafts, or even dinner with friends. It seems I lose the importance of time with my family.
After my mom treated us to an amazing chicken bacon stroganoff for an early dinner, we hit the pumpkin patch for some quality parent-kid time.
We made a quick trip in the last hour open to
Schuh Farms
located on Memorial Highway in Mount Vernon. They've got the great barn seen behind the sunflowers and across the street. It has already picked pumpkins, a coffee stand, cider and other goodies for sale.
My mom's favorite color is yellow, so naturally she loved the sunflowers. She also loves taking pictures. Weird I haven't seen any of them yet. Hint, hint, Mother!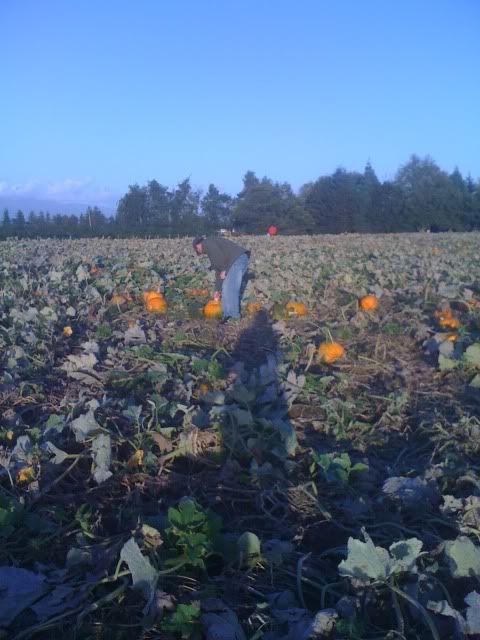 My husband had never been to a pumpkin patch before. I wasn't sure if he was really having fun. In all honesty, as immature and childish the two of us are together, we're really adults. The joys of marriage, right?
The good man that he is, he picked out a pumpkin and even hauled back every last one the whole family had picked. There was still a little joy in this photo. That was until we got to the scale, he realized I had 3 large pumpkins and near 72 little ones weighing in at a healthy 84lbs. Come on! It's part of the fall spirit! We plan to carve a couple and we'll try our hand at homemade pumpkin pie straight from the source.
It was such an awesome day. I love my dad to the moon and back. I'm one of the luckiest girls alive having him to call my dad. My mom couldn't have picked a better man to care for us.
Hope everyone is enjoying what fall has to offer. Happy Friday and enjoy the weekend!