On Saturday I attended the cutest tea party. Every year my mom's church has a ladie's tea, and this year she hosted a table and invited my sister and I to come.
Table hosts are in charge of decorating their own table and filling it with guests. I may be biased, but I have to say my mom had the cutest table ever!
Each table had a three tier server filled with fruit, cookies & tea sandwhiches. I ate my weight in tea sandwhiches & mini brownies. YUM!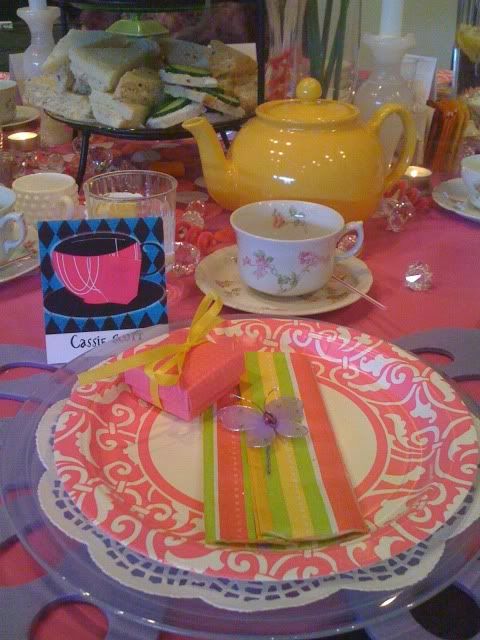 Each place setting had your name. It was a little tea cup on the card with a little tea tag hanging out. When you looked inside the place card there was a tea bag! Genious! Each table host also brought gifts for their guests. In the little pink handmade boxes were beautiful glass magnets.
The teacups were all covered in flowers. They were all different shapes and sizes but similar in pattern. I loved the eclectic look. The little water glasses were picked up at the dollar store, 5 for $1! You never would have guessed. My mom is so thrifty.
I'm madly in love with those little white salt & creamer dishes. I attempted twice to stash them in my purse but my mother refused to give them up. They came from her own house. I will have them one day. One day, you hear me mother?
My favorite part of the table was the large vase with the gerbera daisies, the candle sticks and the cute little lollipops shaped like flowers & butterflies.
The tea party was 'Mad Hatter' themed, and the tables were decorated in whimsical garden themes. They had prize giveaways, a raffle for a beautiful tea set and a message at the end that related to Alice in Wonderland. In the middle of the tea a group of the young ladies graced us with a Mad Hatter Fashion Show. they came out dressed in Wonderland type attire and modeled their awesome hats. It was so fun. If I remember correctly, they had five tables of 8 to 9. Almost 50 ladies in one room dressed to impress for a tea party. I loved it!
It ended up being a family affair at our table! Here is my mom & sister.
My cousin Rachel & Aunt Nadelie were there as well.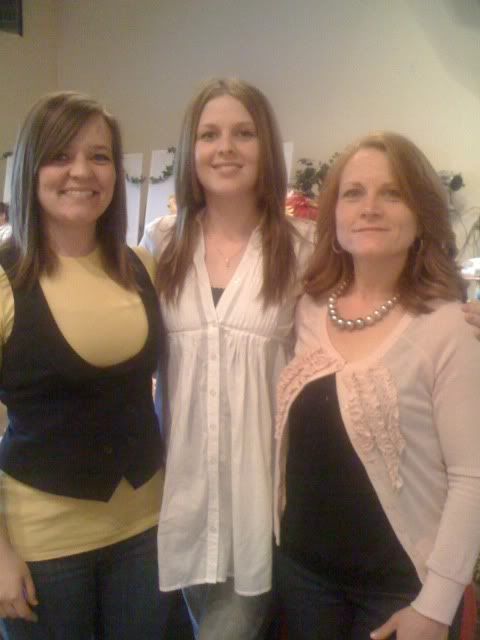 My sister, myself & our mom.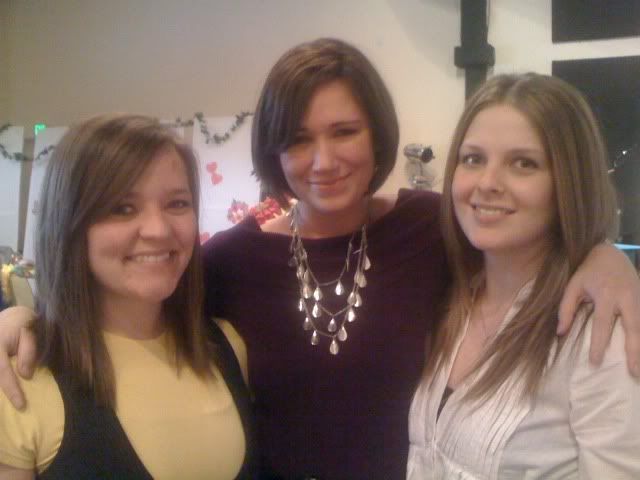 My sister, my cousin & myself.
My sister, Aunt Teresa, Cousin Rachel, myself, Aunt Nadelie & my Mom.
My mom is from a family of 9 and most of her siblings live here in Washington state. It was fun that two of her sister's came. I haven't seen my Aunt Teresa in two years. That's really a shame when we only live an hour apart. Aparently I should attend family gatherings more often (even though work doesn't allow me to usually spend holidays with my family).
Overall it was a really fun morning. I was beginning to get very sleepy since I had just gotten off work that morning at 0700, but I made it through. My sister was sweet enough to drive. I was excited to have seen the ladies from my family and get to spend a fun morning with them.