I'll try this little number again. After having this post waiting in the wings, it somehow it was blank when I finally posted it. I'm going to say this was operator error when I tried to post it from my iPhone (way to go Cass, you're ruining everything). So here it goes.
On Monday (wow, over a week ago now) I cooked up two new recipes. Both courtesy of
The Pioneer Woman
. The Drip Beef was husband's choice, and the Salsa was mine. I'm a salsa fanatic (mostly a Mexican food fanatic) and any time I find a new recipe for salsa I'm all over it. Both recipes were absolutely delicious. TO DIE FOR. I want to make them both again this weekend, we loved them so much.
I took no pictures of the
Drip Beef
, and I'm really sad I didn't. It was late in the night by the time we put together sandwiches and I just didn't feel like it. Once I took the first bite, I had some serious regret over that decision. The meat was tender, and fell apart straight out of the oven. It had just enough spice but wasn't too hot. Dang, it was some good stuff. It made amazing french dip style sandwhiches. We also used the left overs to make burritos and tostadas. This is a multi purpose meat here, folks. And the recipe couldn't be easier. Throw it all in a dutch oven, throw it in the oven to cook for 5 hours and your meal is done.
Next up was the
salsa
. This salsa was great and lives up to it's name. The area we live in here in Washington has a lot of migrant workers from Mexico. We have an abundance of excellent Mexican restaurants and some have really great salsa. Salsa I haven't been able to recreate until now. And I had no idea how easy it could really be.
Start with a can of whole (or diced) tomatoes, 2 cans of Rotel, onion, jalepeno, garlic, cilantro, lime, salt, pepper sugar & cumin. You'll also need a food processor to combine your ingredients.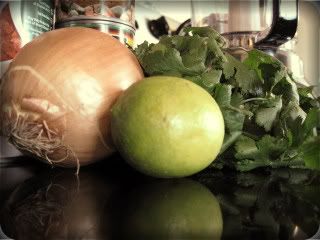 Dice up your onion, jalepeno, garlic & cliantro and get your lime cut in half.
Throw the tomatoes and Rotel in to your food processor.
Add in your diced onion, garlic & jalepeno.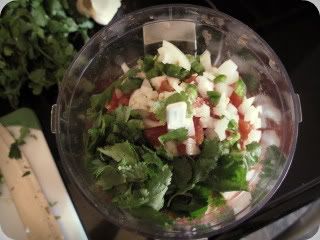 Then add in the cilantro, lime juice, pepper, salt, sugar & cumin.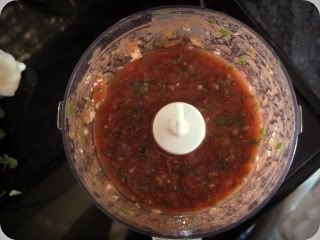 After all the ingredients are combined, pulse 8-10 times depending on your desired consistency.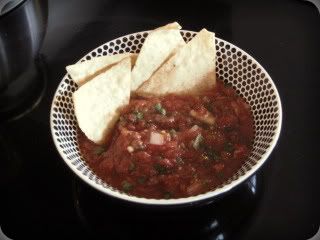 Stick it in the fridge for an hour to chill, and your ready to serve!
This salsa was great. And the longer it sat in the fridge the better it tasted. It gave me a very authenic flavor, more so than some of the other salsas I've made in the past. By the third day it was amazing, and tasted so good on our tostadas. I was pleased with it.
My little food processor was a birthday gift from my husband last year. It's just a small 4 cup prep processor and I really like it. Why do I love it? Because it's cute, small and easy to store given I don't use it a ton. The downside to it being so small? I had to break my salsa up in to four batches to get it throug the processor. And by the time I was done with the second batch, I realized there was no way two people needed all that salsa, so I put the left overs in the fridge and used them for burritos the next day. Genious. I'm definitely looking forward to making both recipes again.