Saturday was a beautiful day here in Washington, and I got to spend the day in my favorite town for it. I anxiously awaited the arrival of 7:00am for my work week to end and headed home for a short nap before I started my adventure that day. Once I was up and ready I headed over to Anacortes with sunroof open to enjoy the fresh air and sunshine. It's too bad I only managed to get powerlines, instead of the beautiful trees that line the highway at this angle.
I met up with my coworker, Erin for our girl date of shopping, beer and a massage. We started our day off at the
Anacortes Brewery & Rockfish Grill
for a few beers. I indulged in my husbands absolute favorite; a Cask IPA. Heaven in a cup. He was bitter that when we had visited just a week before on Valentines Day, that they didn't have his beloved beer on tap.
I posted this picture on Facebook as I enjoyed my beer in the sunshine saying "Anacortes Brewery Cask IPA + Sunshine = Heaven" and my husband's response to that was, "WOW.....that is painful to see. I feel like I am being cheated on. How dare you bring pleasure to others palate my dearest Cask IPA!" He's so cute.
After we finished our beer we headed over to
Maison et Jardin
, a little shop next door that I've loved for years. They have the most unique stuff in their shop, and I was thrilled to find that they had birds galore! Did I not notice this before because I didn't like birds a few years back? Or perhaps this is new for them. Either way, I picked up the cutest silicon wisk sporting a little green bird, and a cute vintage apron.
We were each scheduled for a
swedish massage
at the
Chrysalis Spa
located inside the
Majestic Inn
across the street from Maison et Jardin. We headed in to lounge comfortably in our fluffy robes and enjoyed a snack and a glass of wine while we waited. This was my first massage and it was incredible. I've been having major problems with my neck and shoulders and it's been causing terrible headaches. I'm more than positive it has everything to do with the chairs we sit in at work for 12 hours at a time. She said I'd need 2 or 3 more session to really get everything to release, but I feel a million times better after just that first session. I'm a fan and I'll definitely go back.
After our massage we enjoyed another drink at the bar located in the Majestic Inn. We shared a couple appetizers and took our drinks up to the top of the Inn. This building is a stunning 7 stories high and the view from the top was amazing. You literally could see a 360 degree view of the entire island, seeing the water on almost every side. It was beautiful. They've done a great job of making downtown Anacortes so inviting and I couldn't help but snap a picture of the view.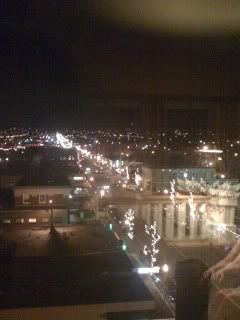 We finished the night off with another drink and dinner back over at the Rockfish Grill and went on our way. I was so happy to enjoy the early Washington sunshine with a great friend. We're looking forward to our next girl date! And after the amount of time I'd been up, the wonderful massage, the great food and drinks we enjoyed, I swear I haven't slept that good in a really long time.