I endured a long work week, and given I work nights your optimal day time hours are cut down and I technically had one day off work this weekend. Sweet husband of mine took me on a day date to the big city for some sushi, shopping and a movie. Our movie plans didn't work out, but the rest did!
After our sushi lunch at
Blue C Sushi
, I browsed the shoes at Nordstrom and found a couple pairs of Frye boots that I absolutely love. He took the opportunity to make fun of me, because of my before mentioned adversity to things "country". But I fell in love with a cute pair of
shorty cowgirl boots
. I'll have them one day.
Next I visited Beauty Works for their sale on OPI. The two things I was looking for specifically today were a new nail polish color (I came home with three) and volumizing mousse for my roots.
Veronika
says mousse is a must, and her hair is amazing. So I'm jumping on board. My hair is definitely lacking volume. My OPI colors I picked up were Over the Taupe, La Paz-itively Hot in Matte, and Pamploma Purple from the Espana collection.
Over the Taupe - I love the look of nude/neutral nails. I'm excited about this one.
La Paz-itively Hot in matte - I'll try out this new matte trend and see how I like it.
Pamploma Purple from the Espana Collection - So pretty, I loved the color when I tested it.
Onward we went, and found ourselves in American Eagle. Husband loves their hoodies and couldn't pass up their buy one get one half off sale. He picked up a hoodie, and I picked one up as well along with a cute flannel shirt (my adversity is failing, isn't it?).
Perfect for lounging around the house, or a comfy night at work. Picked it up for $20 with the sale.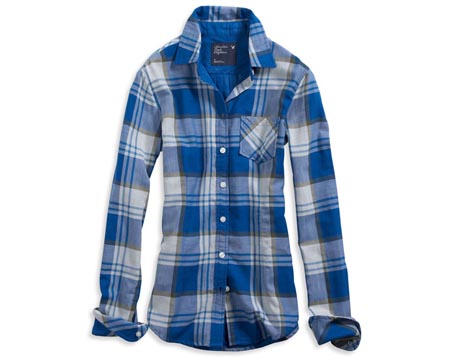 This isn't the exact shirt, but I couldn't find it on their site. Same color pattern, mine just has 2 pockets on the front rather than one. Their clearance rack was an additional 30% off and I snagged this for $10.
We moved on to the jewelry store where I hesitantly turned in my engagement and wedding rings for their 6 month maintainence and had them sent out to be cleaned, replated and to have the wedding band sized down. When we bought it, we were just days away from flying out for our wedding and didn't have time to have it resized. I've been wearing it for over a year too big. So I figured I might as well. Every time I notice there's no ring on my finger I have a moment of panic thinking I've lost it. They'll be done next week.
We visited Macy's where I tried on a couple pairs of shoes and didn't love anything. Stopped in to Sephora where again I left empty handed. We made a visit to Apple to look at cases for Husband's iPhone, and they had nothing he liked. Though I fell in love with the
Kate Spade
cases. And I should have just bought the one I wanted, but didn't since it was a downgrade to the case I already have on mine.
Last stop was Trade Secret for mousse. I wasn't super impressed with their selection, and maybe would have had just as good of luck at Walmart when I got home, but picked up
Tigi's Catwalk Fashionista Big & Bigger Volumizing Foam
.
The one review from
Folica
is good, and confirms says they're discontinuing the product. No wonder I got it at a discounted price and she told me it was final sale. She just didn't tell me why. But I have high hopes it will give me the results I want. My friend Meg used to get her hair done at a Tigi salon and liked their products.
Not a ton of crazy stuff, but it was a really nice day spent with my husband. He's my best friend, and a really great shopping partner. He has really good taste in clothing, so I always trust his opinion. It's back to work for me tonight, hope everyone enjoys the rest of their week!